Het "Woodland Award"
Al wie het bewijs kan voorleggen dat hij een radioverbinding tot stand heeft gebracht met enkele leden van sectie TRA en met het TRA-clubstation ON7TR kan een aanvraag indienen voor het bekomen van het "Woodland Award" dat uitgegeven wordt door de sectie TRA.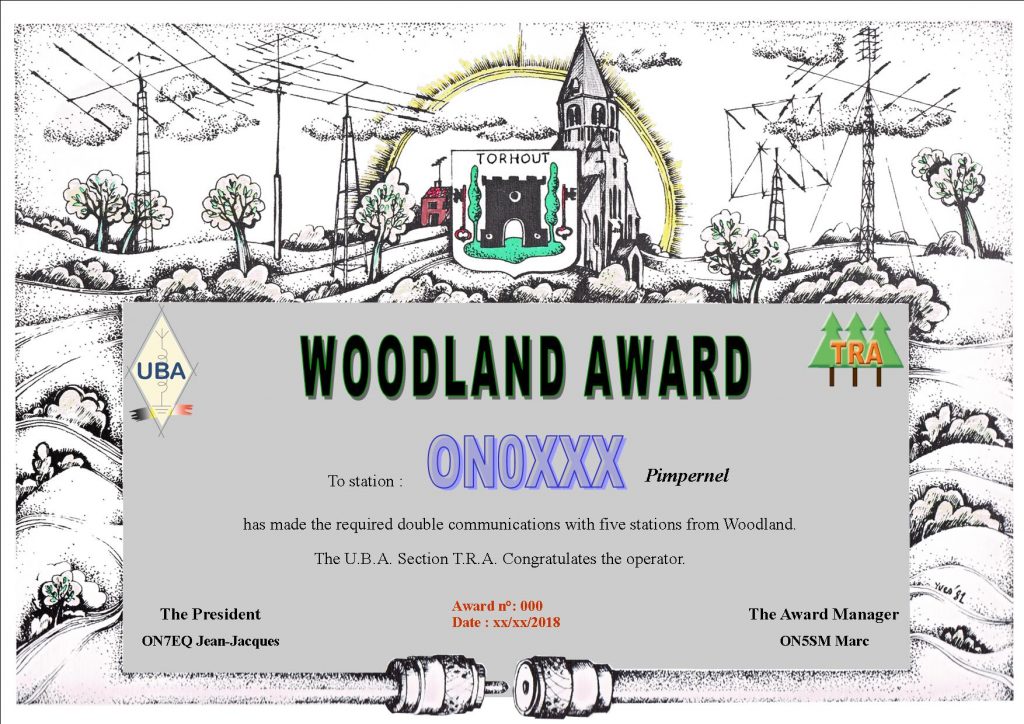 Ziehier een overzicht van de gestelde regels:
Woodland Award >> Rules
DX and SWL stations need to earn 3 points.
ON stations need 5 points.
When you work member stations of TRA (Torhout R.C.) after 12 May 1979. Each TRA member = 1 point, club station ON7TR = 2 points. Send your log extract to on7tg (at) uba (dot) be. Award manager is Norbert ON4ANE.

Actual member list of TRA section (updated 01-9-2020):
| | |
| --- | --- |
| ON1AKI | Kurt |
| ON1CFR | Wilfried |
| ON2IC | Eddy |
| ON2JLA | Julien |
| ON3AIX | Luc |
| ON3DAG | Dirk |
| ON3DG | Guido |
| ON3DL | Bart |
| ON3MH | Marc |
| ON4ADI | Leopold |
| ON4AM | Wim |
| ON4ANB | Noël |
| ON4ANE | Norbert |
| ON4APU | Noël |
| ON4BCN | Maurits |
| ON4CEZ | Danny |
| ON4CGX | Bernard |
| ON4CJK | José |
| ON4CV | Carine |
| ON4DBI | Ivan |
| ON4PO | Martin |
| ON4VC | Michel |
| ON5ABK | Arnold |
| ON5JDB | Johan |
| ON5MF | Jurgen |
| ON5SM | Marc |
| ON6ADC | Alain |
| ON6CQ | Ronny |
| ON6DG | François |
| ON6DL | Marc |
| ON6PM | Pascal |
| ON6PV | Wim |
| ON7ABT | Michel |
| ON7ACE | Lieven Herman |
| ON7AH | Dirk |
| ON7CFZ | Luc |
| ON7CHV | Dirk |
| ON7CN | Noël |
| ON7EQ | Jean-Jacques |
| ON7IVE | Ive |
| ON7JA | Jan |
| ON7LX | Carine |
| ON7RA | Renaat |
| ON7RD | Danny |
| ON7RR | Jozef |
| ON7TG | Tom |
| ON7TK | Claude |
| ON7TR | TRA Clubstation |
| ON7UC | Johan |
| ON7ZS | Johan |
| ON8AD | Jeffrey |
| ON8CQ | Walter |
| ON9CCS | Kohtaro |
| ON9CLU | Charly |